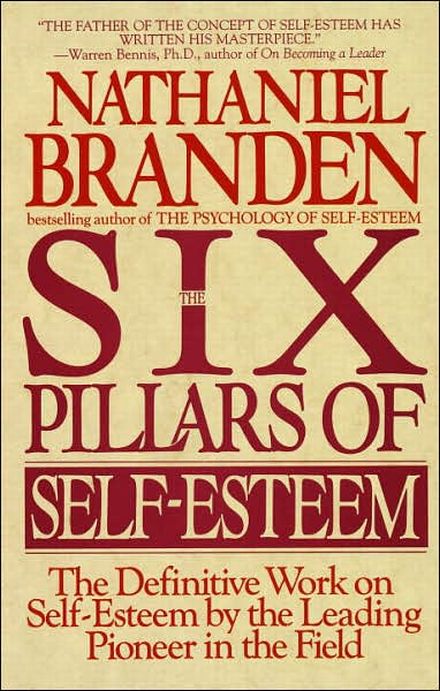 Self-concept is destiny. If you have a high opinion of yourself, you're more likely to get positive emotional feedback from others which will reinforce your strong self-image; if you have a low opinion of yourself, you're more likely to get negative feedback from others, "proving" that you were right all along.
Healthy self-esteem correlates with:
rationality
realism
intuitiveness
creativity
independence
flexibility
ability to manage change
willingness to admit and correct mistakes
benevolence
cooperativeness
Poor self-esteem
correlates with:
irrationality
blindness to reality
rigidity
fear of the new and unfamiliar
inappropriate conformity or inappropriate rebelliousness
defensiveness
over-compliant or over-controlling behavior
fear of, or hostility to, other people
"The union of two abysses does not produce a height."
"Poor self-esteem places us in an adversarial relationship to our well-being"
Self-efficacy is the conviction that we are able to think, to judge, to know, and to correct our errors. It is trust in our mental processes and abilities. It is not the conviction that we can never make an error. It is trust in our processes, not necessarily in the outcomes.
"Self-esteem is not a substitute for the knowledge and skills one needs to operate successfully in the world. But it does increase the likelihood that one will obtain those skills."
Physical manifestations of self-esteem:
eyes that are alert, bright, and lively
shoulders that are relaxed, yet erect
hands that tend to be relaxed and graceful
arms that tend to hang in an easy, natural way
a posture that tends to be unstrained, erect, well-balanced
a walk that tends to be purposeful
a voice that tends to be modulated with an intensity appropriate to the situation and with clear pronunciation
Pillar #1 – The Practice of Living Consciously
"We cannot feel competent and worthy while operating in a mental fog."
"Self-esteem is the reputation we acquire with ourselves."
Pillar #2 – The Practice of Self-Acceptance
"In the most fundamental sense, self-acceptance refers to an orientation of self-value and self-commitment that derives from the fact that I am alive and conscious. As such, it is more primitive than self-esteem. It is a pre-rational, pre-moral act of self-affirmation. It is a kind of natural egoism that is the birthright of every human being."
"(Self-acceptance) is our willingness to experience, rather than disown, whatever may be the facts of our being at a particular moment."
"The mind that honors sight, honors itself."
We are not moved to change that which we deny in the first place.
When you have a thought, feeling, or emotion that you have trouble accepting, at least accept the fact that you're resisting it.
"Chronic tension coveys some form of internal split, some form of self-repudiation."
"If our liabilities pose the problem of inadequacy, our assets pose the challenge of responsibility."
Pillar #3 – The Practice of Self-Responsibility
Mindset: "I am responsible for the achievement of my desires."
"I am responsible for my own happiness."
In every organization there are those who wait for someone else to provide a solution and those who take responsibility for finding it.
"Embracing self-responsibility not merely as a personal preference, but as a philosophical principle entails one's acceptance of a profoundly important moral idea. In taking responsibility for our own existence, we implicitly recognize that other human beings are not our servants and do not exist for the satisfaction of our needs."
Pillar #4 – The Practice of Self-Assertiveness
"Self-assertiveness means honoring my wants, needs, and values – and seeking appropriate forms of their expression in reality."
There are some people, usually teenagers or immature young adults, that practice "self-assertiveness" by reflexively saying "no" to everything. But self-assertiveness is ultimately defined not by what you are against but by what you are for.
"Self-assertiveness asks that we not only oppose that which we deplore, but that we live and express our values."
One of the ways we build self-esteem is to be self-assertive when it is not easy to do so.
Pillar #5 – The Practice of Living Purposefully
"To live without purpose is to live by chance…outside forces bounce us along like a cork floating on water, with no initiative of our own to set a specific course. Our orientation to life is reactive rather than proactive."
"The root of our self-esteem is not our achievements, but those internally generated practices that, among other things, make it possible to achieve"
Pillar #6 – The Practice of Personal Integrity
To live with integrity is to have principles of behavior to which we remain loyal in action
The issue is not so much whether we are "perfect" in our integrity but rather how concerned we are to correct such breaches as might exist.


Guilt can serve the desire for efficacy by providing an illusion of efficacy, even if the situation was out of your control ("If I had only done X, it would have been different…").
"The higher the level of consciousness of which we operate, the more we live by explicit choice and the more naturally does integrity follow as a consequence."
The mindset that "only I will know if I lie" implies that you think your opinion doesn't matter, and that only the opinions of others matter.
The six pillars provide a standard for judging parental policies ("Does this encourage self-responsibility?", etc.)
The statement "I am enough" does not mean that I have nothing to learn and nothing to grow to, it means: "I accept myself as a value as I am."
You cannot stimulate innovation and creativity without also focusing on self-esteem.